Texas Public Lands
Texas US Corp of Engineer Lakes
Addicks and Barker Reservoirs
Houston, TX
These lakes are actually normally dry. They serve as overflow catchments for Buffalo Bayou. The reservoirs are adjacent to one another and on the west side of Houston on both sides of I-10 at TX 6. There are facilities for golf, hiking, picnicking, field sports, horseback riding, shooting ranges, model airplane flying, a velodrome and other activities. *Bear Creek Park is the center for most of these activities.
Clifton, TX.
A 3,280-acre lake located on Aquilla and Hackberry Creeks.
Ennis, TX
A Dallas-Fort Worth metropolitan area Reservoir. Campgrounds, fishing access, and picnic facilities. Near Ennis and ~ 40 miles south of the metroplex.
Belton Lake
Belton, TX
Adjacent to Fort Hood, includes recreational opportunities and a number of historical sites. Visit the Charter Oak, Stage Coach Inn and some interesting military points-of-interest. There is a nature trail below the dam and it includes a trail and wildlife viewing areas.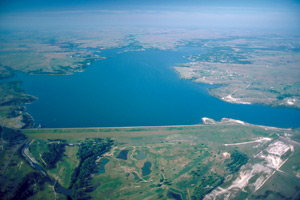 Benbrook Lake
Fort Worth, TX
The 3,770 acre lake offers boating, camping, fishing, hunting, and hiking.
Canyon Lake
Canyon Lake, TX
Canyon Lake is surrounded by plenty of facilities. There are eight Parks, 23 boat ramps, marinas, campgrounds and a golf course. There is 80 mile of shoreline around the 8,230 acre lake.
Cooper Lake (AKA Jim Chapman Lake)
Sulphur Springs, TX
Two state parks and a wildlife management area are found around this 19,305 acre lake.
Lake Georgetown
Georgetown, TX
San Gabriel River
A Hill Country lake convenient to Austin. Day use parks, boatramps and a 24 mile trail around a section of the lake.
Granger Lake
Granger, TX
San Gabriel River
One of the best crappie lakes in central Texas. 4,400 acres
Grapevine Lake
Grapevine, TX
Denton Creek, a tributary of the Elm Fork of the Trinity River
North of the metroplex this 7,280 acre lake offers camping, fishing, hunting, boating and more.
Hords Creek Lake
Coleman, TX
Campground parks on opposite sides of this smaller Corp park.
This lake forms a 7,470-acre impoundment on Mountain Creek. Not far and easy to get to from the Dallas-Fort Worth Metroplex.
Although this is one of the busiest lakes in the metroplex, other favorite lakes in this region include White Rock, Grapevine, Lavon, Lewisville, Ray Hubbard, North, and Ray Roberts.
Lake O' the Pines
Jefferson, TX
Big Cypress Creek, the Cypress River
16,919 acres
Lavon Lake
Wylie, TX
21,400 acres
The Heard Natural Science Museum and Wildlife Sanctuary in nearby McKinney features natural history exhibits and nature trails. From Wylie, 3 miles E on TX 78,1 mile N on county road.
Lewisville Lake
Lewisville, TX
Elm Fork of the Trinity River
29,592 acres
Camping, fishing and boating with many parks and facilities.
Navarro Mills Lake
Purdon, TX
5,070 acres
O.C. Fisher Lake (AKA San Angelo Lake)
San Angelo, TX
North Concho River
5,440 acres
Know for the San Angelo State Park that is found along its banks.
Pat Mayse Lake
Powderly, TX
5,940 acres
Proctor Lake
Comanche, TX
Sabanna and Leon rivers
4,537 acres
Along its banks are Copperas Creek Park, Sowell Creek Park, Promontory Park, and High Point Park. Fishing, boating and camping are popular.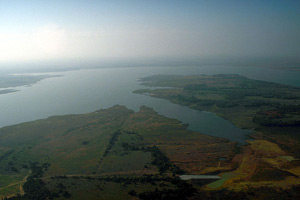 Ray Roberts Lake
Lewisville, TX
Elm Fork of the Trinity River
25,600 acres
When completed it will impound 29,350 acres of water on the Elm Fork of the Trinity River in Cooke, Denton and Grayson Counties in north Texas. From Sanger, 5 miles E on FM 455.
Sam Rayburn Dam & Reservoir
Jasper, TX
Angelina River
114,500 acres
Big Thicket country lake.
Somerville Lake
Somerville, TX
Yegua Creek
11,456 acres
Rocky Creek Park, Yegua Creek Park, Pecan Lake Park and McCain Park.
Stillhouse Hollow Lake
Belton, TX
Lampasas River
6,429 acres
Dana Peak Park and Union Grove Park. Boating, fishing, swimming camping and more.
B.A. Steinhagen Lake
Woodville, TX
Neches River
10,687 acres
Fishing, camping, and birding
Texoma Lake
Denison, TX
Red River
74,686 acres
This large lake is located in Texas and Oklahoma. Its size and many amenities make it a draw for many millions of visitors every year.
Truscott Brine Lake
Crowell, TX
Small control lake, day use facilities only.
Waco Lake
Waco, TX
North Bosque and Bosque Rivers
8,465 acres
Boating, camping, fishing, swimming, birdwatching biking and hiking. There are seven boat ramps and Airport Park, on the north shore, offers a marina, restaurant, and campground.
Whitney Lake
Clifton, TX
Brazos River
The 23,500 acres offer ample opportunity for recreation.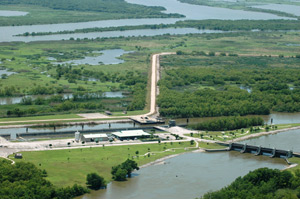 Wallisville Lake
Wallisville, TX
Trinity River
Hiking, photography, birdwatching, boating, and wildlife viewing
Wright Patman Lake
Texarkana, TX
Sulphur River
from 20,300 to 33,750 acres
Nine Corp parks providing lake access that includes boating, swimming, and fishing. Camping, picnicking, hiking and horseback riding trails equestrian trails are also available. Atlanta State Park is found on the south shore of the lake.