Adams Woods, Lincoln MA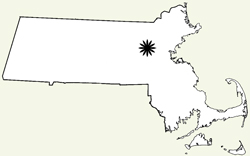 Adams Woods is part of a series of connected public lands that run from (going north to south) Hapgood Wright Forest, Walden Pond State Reservation, Adams Woods, Mount Misery and Codman North (Map).Just east of Adams Woods is Pine Hill and Baker Bridge North.
Access:There are a few hard to find parking spots along Old Concord Road and off Fairhaven Road at the Lincoln Land Conservation Trust entrance. Otherwise you can park at Walden Pond parking on route 126 and walk to Adams Woods by walking to the southwest corner of that park or similarly park at the Mt Misery conservation land and walk from that property.
Fees:There are no fees for this property
Activities: Hiking, Horesback Riding
Features: 104 acres on the border of Concord and Lincoln. Contains the Andromeda Ponds, kettle hole bogs that Thoreau visited and wrote about in his journals. There are a few small meadows and small streams flowing through the property.
Habitats: Forest, wetlands, ponds, bogs, meadows, and pasture.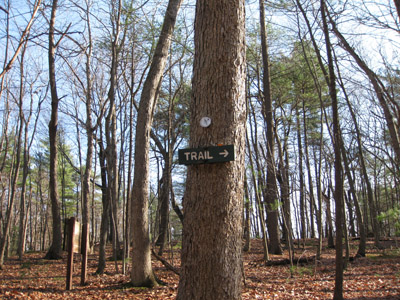 The trails throughout this modest sized parcel have some ups and downs but all are well maintained and nicely blazed (image above and two images below).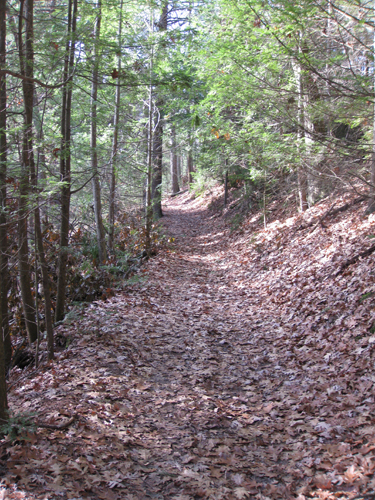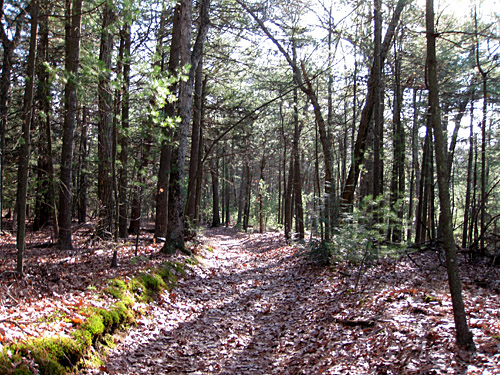 The eastern portion of Adams Woods is bordered by the MBTA commuter train railroad line. At the very northernmost part of this border, there is a view of Walden Pond. There is also ready access to the trail system into the Walden Pond State Reservation.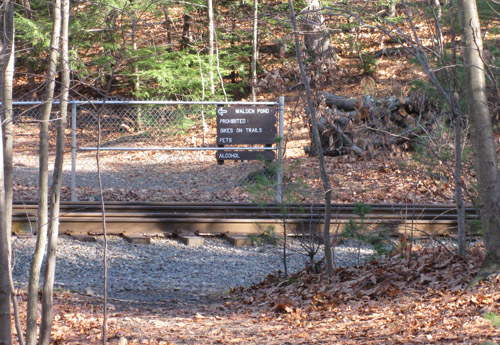 There is a small meadow on the southwest section of Adams Woods. This now 3 acres of hayfield once stretched along Heywood's Brook from from Fairhaven Bay (see map below) to the present railroad easement. The stream, flowing along the southern border of Adams Woods is now largely forested.
Pleasant Meadow looking toward Fairhaven Bay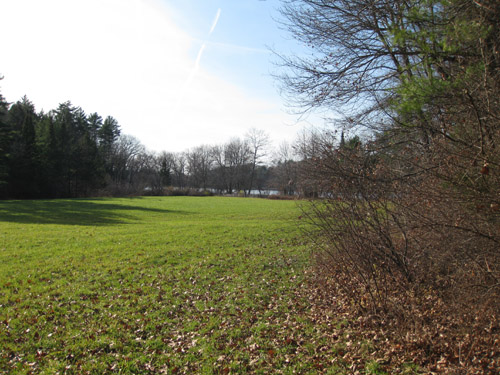 Heywood's Brook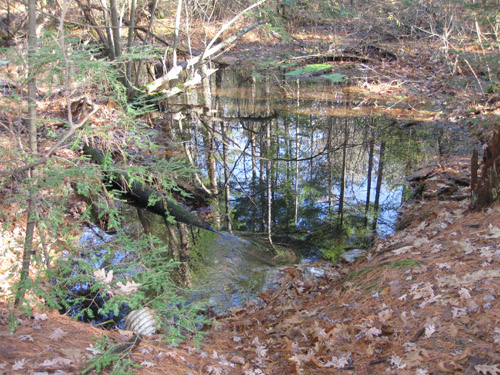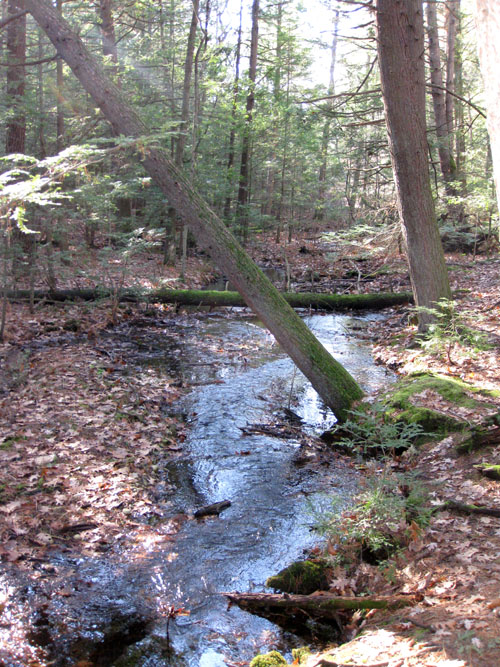 Andromeda Bogs
One of the bogs can be seen through the trees in the picture below. The west-to-east northermost trail of Adams Woods passes by a string of bogs that Thoreau memorialized in his journals.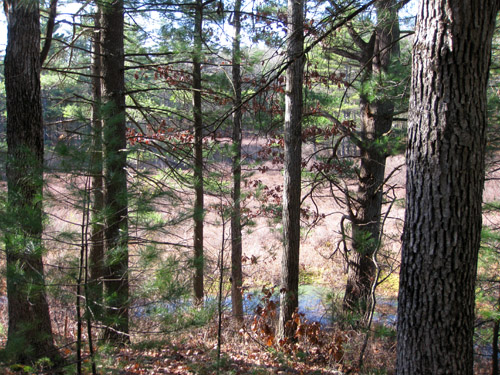 Thoreau - Jun 22, 1855
"Those Andromeda Ponds are very attractive spots to me. They are filled with a dense bed of the small andromeda, a dull red mass as commonly seen, brighter or translucent red looking toward the sun, grayish looking from it, two feet or more high, as thick as a moss bed, springing out of a still denser bed of sphagnum beneath. Above the general level rise in clumps here and there the panicled andromeda, with brown clustered fruit, and the high blueberry . But I observe that the andromeda does not quite fill the pond, but there is an open wet place, with coarse grass, swamp loosestrife, and some button-bush, about a rod wide, surrounding the whole. Those little hummocks or paps of sphagnum, out of which the andromeda springs, as bouquets are tied up in the same to keep them fresh, are verv beautiful . Now, where the frost has touched them, they are hoary protuberances, - perhaps inclining to ridges, now frozen firmly, - green beneath and within ; general aspect now perhaps pale withered brownish, the green only driven in a little deeper, spotted with more or less bright reddish stars ; where drier, frequently beautiful crimson stars amid the hoary portions ; a beautiful soft bed, of a myriad swelling bosoms, out of which the andromeda springs. I got a load once to stuff into the chinks in a well I was [walling up] -to keep the sand out, but, it being covered, it died, and I believe I only filled the water with motes and worms ever after. A beautiful palebrown and hoary-red and crimson ground of swelling bosoms. Dr. Harris spoke of this andromeda as a rare plant in Cambridge. There was one pond-hole where he had found it, but he believed they had destroyed it now getting out the mud . What can be expected of a town where this is a rare plant ? Here is Nature's parlor ; here you can talk with her in the lingua vernacula, if you can speak it, - if you have anything to say, - her little back sitting-room, her withdrawing, her keeping room.
I was surprised to find the ice in the middle of the last pond a beautiful delicate rose-color for two or three rods, deeper in spots. It reminded me of red snow, and may be the same. I tried to think it the blood of wounded muskrats, but it could not be. It extended several inches into the ice, at least, and had been spread by the flowing water recently . As for vegetable pigments, there were button-bushes in and about it. It was this delicate rose tint, with internal bluish tinges like mother-o'-pearl or the inside of a conch. It was quite conspicuous fifteen rods off, and the color of spring-cranberry juice. This beautiful blushing ice! What are we coming to?"
Adams Woods is part of an area of Lincoln and Concord Mass that is rich in publicly accessible lands with many trails.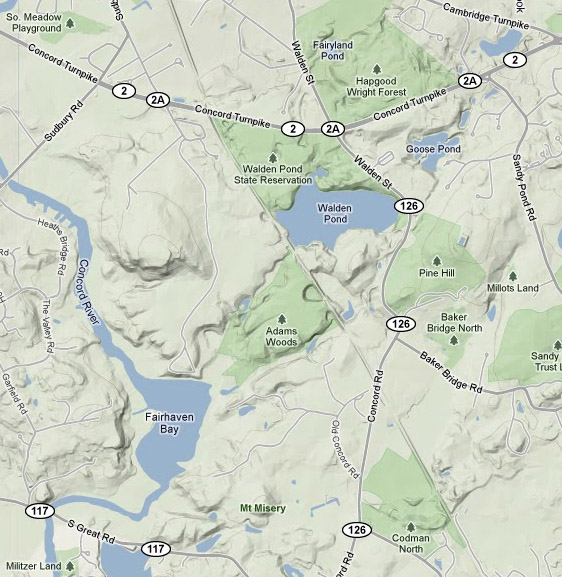 Land Unit:

Region, City, orTown, Names:

State:

State Tag: